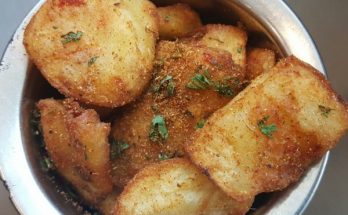 We Indians love our potatoes, it forms an inseparable part of the Indian kitchen. But, it's interesting to note that it did not even exist on our soil more than four centuries ago. However, since its advent on the Indian shores at the commencement of 17th century, the tuber manged to gradually create a niche for itself in every regional Indian cuisine. Thus, the repertoire of potato recipes is very extensive and it's tough to sum up all of them in a single article. So, I have captured five of my favourite potato delights from different regional cuisines here:
1.Batata Vada
Mumbai city's most famous street food preparation has batata or potato at its core. The vada is a piquant potato fritter. The best way to enjoy the vada is by stuffing it in a piece of laadi pav smeared with a spicygarlic chutney and eat it piping hot in the rains.
2.Aloo Posto
This is the most celebrated potato preparation of the Bengali cuisine. Chopped potatoes are sauted in mustard oil with green chillies, cumin seeds and khuskhus (poppy seeds) to arrive at this delicacy.
3.Aloo Pitika
This dish from the Assamese cuisine is the easiest potato recipe I have come across in my culinary journey. Various regions serve this same dish by different names, the most common urban lingo is Mashed potatoes. Mashed boiled potatoes are mixed with fresh green coriander, green chillies and drizzled with mustard oil or butter before serving.
4.Tuk Patata
In this dish from the Sindhi cuisine, diced potatoes or patata are flattened and double-fried till they turn crispy. Once ready they are served with a sprinkling of red chilli powder, amchur (dry mango powder) and salt.
5.Urullakizhagu Stew
In Kerala, chopped potatoes or urullakizhagu are fried with whole spices and onions along with coconut milk to arrive at this highly aromatic, milky-white stew.
ABOUT THE BLOGGER:
Saher Khanzada is a marketing professional who pursues her passion for the world of food through her personal blog, www.thebombayglutton.com Her blog has been recognised with awards two years in a row at the coveted India Food Bloggers Awards.