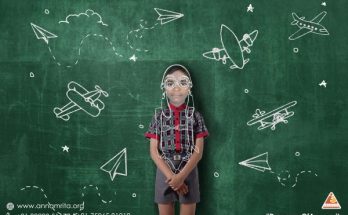 There are very few amidst all who dare to dream against the odds; who know that there is nothing impossible and that the greatest magic is to make anything possible. Breaking out of earthly confines and flying high is a dream to him.
Abhay Jadhav, a 7th standard student of Kashi Marathi School Number 4, a loved child of his parents and sibling of a brother and 2 sisters; is determined to become a pilot someday and fly high into the sky. But can a plane fly on an empty tank? No.
With his father being a plumber and mother a home-maker, all he could have for breakfast was some milk before heading for school. But Annamrita Team ensured that his little plane shall not be kept from the flight, and thus he is well-fueled with good and healthy food. His parents are doing their best for Abhay to stay in school and we at Annamrita will do our bit to help Abhay achieve his dreams.
Our little pilot says that he loves Khichdi, Poha, and also Kurmura Bhel with loads of other things from the weekly menu of Annamrita mid day school meal program. Food from Annamrita keeps him well energized and ensures that he can concentrate on his studies and get all the good growth to claim the sky very soon. There are many children who are looking for our support, Abhay is one among them. We as grownups are well known to the hardships of life. So it is important to safeguard our children which can be made possible only if you donate to NGO. Be the change-maker.