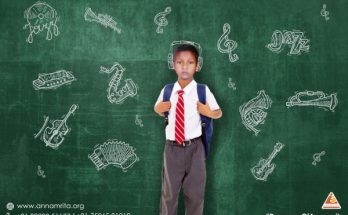 Good or bad, sad or gay, slow or fast, life has its own rhythm but only a few know to make the music of it and dance to this complex but beautiful song!
One such artist is this young boy of a small district called Palghar in Maharashtra, Ajay Harishchandra Khatali. A Standard IV boy studying in K. P. School, living in a world where realities often try to crush the castles of dreams, he is adamant to make his dreams come true. He wants to make his world a beautiful melody by growing up to be a DJ.
His father is a farmer and the sole breadwinner of the family and his mother a homemaker, the family cannot afford 3 full meals. Thus his day begins only with a cup of tea.
But thanks to Annamrita's mid day meal programme Ajay at least gets a wholesome lunch. We are happy that this boy gets ample nutrients to fuel his journey towards his dreams.
Talking about our mid day meal, Ajay says that he likes it because it is tasty; neither too spicy nor too sweet. "We need energy, so this meal is important".
He feels energetic and happy after consuming mid day meals and finds Usal Bhaat as his favorite tummy filler.
A happy and healthy boy, content parents, and big dreams are what makes for happy endings. We hope to someday dance to this little one's tunes.We, at Annamrita are proud to be in service of such ambitious and determined children. Join our endeavour/cause of donation for child education and witness the glory of blossomed dreams.