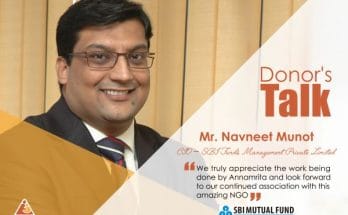 India is one of the largest agricultural production economies in the world. It also has abject poverty, lack of education, and for the worst, massive malnutrition.
Children from low to negligible income families often can't afford a single meal and at times, live only on just a loaf of bread. At times, it could actually be a left-over from somebody else's meal. In such a case, education and eliminating hunger become a far-off dream.
Empirically it's proven that levels of malnutrition and education are closely interlinked. Annamrita tries to address both. Annamrita aims to fill those empty stomachs and fuel those dreams which haven't been able to take flight because of malnutrition. SBI Funds management has identified malnutrition as one of the biggest challenges for India and therefore got involved with organizations and gave CSR donation to NGOs like Annamrita.
In an interview with the CIO of SBI Funds Management, Mr. Navneet Munot expresses what this mission means to them and that we will all be together planting the seeds of a future where malnutrition will be just a history which will not repeat itself.
What interests you the most about Annamrita?
It is horrifying and sad that meals are a scarcity in a country where food is abundantly grown. We have resources but not the right structure and institutional capability to make the end product available to all. Annamrita is not only supporting a very sensitive cause but also working towards it most dedicatedly and consciously. Also, given their roots, we knew that donating money to NGO would be used exactly for the purpose that it had been given for.
How closely can you see and relate the vision of SBI Mutual Funds and the aim of Annamrita?
SBI Mutual Fund has always had a focus on malnutrition and the impact of malnourishment on the society so when we came to know of Annamrita working in the space of school meal program and providing lakhs of meals to needy children across the nation daily, we were very happy to partner with them.
How would you recognize the problem of malnutrition in the country? How much do you think Annamrita is being able to help?
Nearly 1/3 of children under the age of eight suffer from malnourishment in municipality schools. With mid day meal being mandatory in government schools, it was not clear why the numbers were still so high. The reason came out to be a lack of good quality and healthy meals. It is satisfying to see that Annamrita prepares its mid day meal in the ISO certified kitchens where hygiene standards are at par with the best in the Industry.
How do you find the working system of Annamrita and its health standards?
Having visited their Tardeo and other kitchens we have seen how they achieve such humongous feats from moderately sized kitchens. It is awe and an inspiration. Day in and day out meals are prepared from 2:30 am till 12 pm and sent out, all with uncompromised hygiene standards.
In what way have you supported Annamrita and for how long?
SBI Mutual Funds has been supporting Annamrita for the last 6 years.
We have been sponsoring vehicles for Annamrita to deliver mid day meal to schools. Besides Maharashtra, we have sponsored delivery vehicles in some of the other states like Jharkhand and West Bengal.
What message would you like to convey to the people to eradicate malnutrition?
Annamrita resonates with the message of Food for all. It is upon us to prepare our future generations for a stronger tomorrow and nutrition and education are important pillars that should be highlighted upon. We truly appreciate the work being done by Annamrita and look forward to our continued association with this outstanding NGO.
With a large number of people contributing to the cause and with a charity donation, Annamrita has come a long way and has played a major role in transforming society through their mid day meal scheme.
A bonus about starting a school meal program is that children learn to have aspirations about their career.