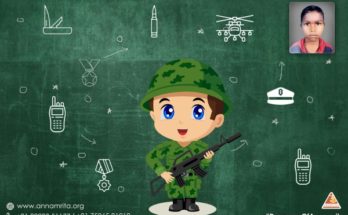 A class five student of Z.P. School of Kharadpada in Palghar district, Anish Arun is a young man protectively taking his dreams forth beyond the borders. Aiming to join the Indian army someday and serve the nation, he is a child of charm and poise all ready to become a man of valor when he grows up.
Born into a struggling middle-class family, where his father works in a shop and his mother is a housewife. He is blessed with a sister who also goes to the same school. With meager earnings, his family tries their best to provide good food to the children, however. Anish's father is happy about enrolling their children in the mid day meal scheme that serves his children nutritious food they need at his age.
Fond of playing Kho-Kho and studying English, this young man is going to be a pride of the nation, which he already is for us. Starting the day with just tea and chapati in the morning, Anish finds meals from Annamrita fresh and nutritious that help him focus on studies with a satisfied stomach. He adds that he absolutely loves the food and feels energetic after having it. Annamrita has been very supportive of this by serving healthy and tasty mid day meal in schools on all school days. Thank You, Annamrita!
Donate to NGO so that children can go to school and relish the privileges as your child does.