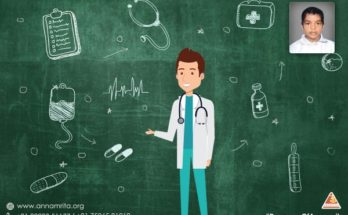 Dilnawaz Shamsher Khan, his name itself reveals a glimpse of his dreams. For he aspires to someday become a Doctor and serve people, help lives and win hearts!
For a child so young to have such noble aspirations is a virtue in itself. Studying in fifth standard at Navghar Hindi School, he is already a keen student of his school who grabs every opportunity of learning while not compromising on his fair share of sports and fun. "For one to become a doctor and make people healthy I need to be healthy first," he tells us with his most mischievous smile.
Just some poha in the morning is not enough for this little doctor to reach his fitness goals. A healthy lunch is the fuel to his fire. Thus, Annamrita school meal program helps him get the ample nutrition that he needs. He knows the value of khichdi and how it is packed with vegetables and lentils that will help him grow strong.
Living in a joint family of 8 members, consisting of three sisters, parents and grandparents, food is a luxury and is often in short supply, Dilnawaz is particularly fond of the Pulav and the chikki he gets with his meal at times. He adds, "Food helps me study better and allows me to play my favourite kho kho with my friends in the evening."
We hope our school meal program helps Dilnawaz fulfill his mission to heal the world.
"When there's a will, there's a way"
Make a NGO donation, if you too want to serve children to persue their purpose of living.
GIVE NUTRITION FOR EDUCATION.