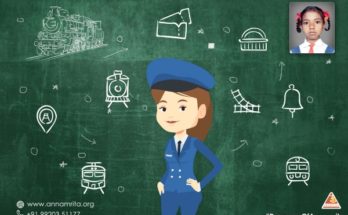 There is no elevator to success; one has to take the stairs. Well, this one would rather take the train. Meet Pallavi Anil Ebhad, a 5th standard dreamer from Z. P. School, Kokner in the Palghar district of Maharashtra. This young girl has unique ambitions of her own.
Coming from a family where her father is a farmer, her dream of becoming a Train Driver is somewhat unconventional and a novel choice and we applaud her for that. Pallavi's mother is a housewife and has a brother who also studies at the same school. She lives close to the railway line and sees the train first thing when she wakes up in the morning and last thing before she sleeps at night, this has fueled her vision of driving one of these Mota Dibbas which is what she refers to them as. Her family is not worried about her ambitions just as they are not worried about her mid day meal, which Annamrita takes care of for her. They are more than happy that the school meal program has worked out so well and are confident that her dreams will also work out well for her.
Pallavi relishes ISKCON mid day meal provided by Annamrita our ngo in Maharashtra. She has a special preference for their dal bhat. She eagerly waits to eat her meals every single day in school. These meals help her stay healthy and energetic, with every nourishing mealtaking her one step closer to her hopes of cruising around the country.
"My dream is not possible if I don't go to school. This thought mixed with the beautiful aromas of the mid day meal served at school, gets me ready every morning. Thanks to Annamrita, for serving tasty meals on every school day," says Pallavi.
Annamrita co-creates the world where children's rights are respected, protected and enforced. We hope our mid day meal provides her the wheels required to reach her destination.
Make a NGO donation and join us in strengthening millions of dreams with nutritious school meals on every school day.
Your support will enable children to go to school and welcome the future with confidence.