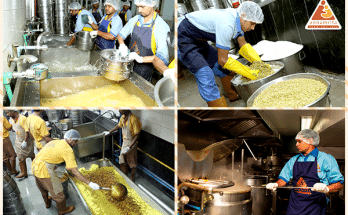 For centuries, several activists, social workers, and organizations have dedicated themselves to a mission against hunger. They have worked to ensure that those in need get the nutrition that they deserve. One such top NGO in India is the Annamrita Foundation, formerly known as ISKCON Food Relief Foundation. Founded over 16 years ago, we have been known as the best NGO for children in India owing to our complete dedication to the cause and unwavering quality of food and nutrition.


During the course of 16 years, we have received several accolades and honorable mentions acknowledging our efforts in the field. However, all the years of experience and expertise were put to test when the world was hit by the COVID-19 pandemic. At this point, much of the knowledge that the top NGOs in India had about nutrition and quality came handy. When the nation went into lockdown to curb the spread of COVID-19, lakhs of people who lived on daily wages were hit with a lack of income and jobs, which led to uncertainty of the future. While lakhs of people are battling hunger during the pandemic, Annamrita, a top Food NGO in India, strives to feed those in hunger and need.


At this point, the question wasn't merely about quality, but also about hygiene. However, we are no strangers to this. Since our inception, we have stressed significantly on the hygiene of food and with a pandemic at large, we took our measures to a whole new level.

This is how we managed to ensure hygiene while cooking for those in need:
Regular training is given to working staff to ensure that they maintained the safety standards.
Periodic temperature check for all employees. This is mandatory and those even with mild symptoms are not allowed on the kitchen premises.
Full body sanitization for every employee as they entered the premises. This is done even when an employee has to leave the kitchen site momentarily.
Utensils are sanitized regularly using industry-grade sanitizers. This is done at least twice a day.
Hand sanitizing for the staff.
And, finally, all the employees are given a complete face mask and gloves.

While some of these were measures we followed even while delivering mid day meal in schools, we added extra measures to face the odds of COVID-19. In the process, we proved that we are not merely the best NGO for children in India, but holistically we have what it takes to be the top NGO in India.