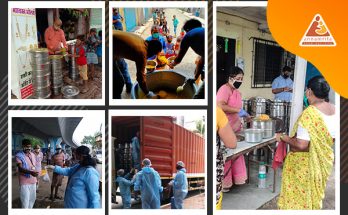 Hunger, and not the virus, is killing India
The COVID-19 pandemic has reportedly aggravated food insecurity in India while exposing the vulnerability of the national food system. With the hunger crisis looming large over both rural and urban India, the country is now home to the largest population of hungry and undernourished people in the world, as reported in The State of Food Security and Nutrition in the World, 2020 report.
Although the pandemic-induced, nation-wide lockdown is long over, innumerable marginalized people are still starving across India. Thousands of migrant workers who had returned to their native villages due to the nation-wide lockdown are going back to cities only to face more economic uncertainty. With dwindling demand and scarce opportunities, many of those who had lost their jobs in the pandemic are left with no jobs, no money, no food. With severely disrupted food supply chains, job cuts, and loss of daily wages, a number of NGOs in India are relying heavily on food donation to overcome this crisis.
Fighting Corona with Karuna
The pandemic has worsened the hunger situation in India and several organizations are trying to combat this challenge with their online donation in India programs. We, at Annamrita Foundation, are working relentlessly to feed hungry, undernourished, and poor people across the nation. Leveraging our kitchens across the country, we are on a mission to defeat the COVID-19 pandemic, one meal at a time. Under our flagship Annamrita Karuna program, we have already served more than 20 million cooked meals* to migrant and poor people. As an NGO in India with a robust network of donors, partners, and volunteers, we are delivering hygienic and nutritious meals to emergency medical teams, patients and their relatives, quarantined families, underprivileged children, and daily wage laborers in multiple states. We follow strict adherence to WHO guidelines on maintaining social distance and personal hygiene while sourcing, preparing, and delivering food. With the support of State Government bodies, our food donation campaign has been able to replace hunger with hope across India.
Extend your hand to increase our reach
'Karuna', a Sanskrit word meaning compassion, refers to an act of kindness that helps reduce the suffering and pain of others. At Annamrita, we believe that when you feed someone, you don't make a donation; you make a difference. Come, join us as we build a stronger and healthier India. With an online donation for India, you can make a difference in the lives of millions.
Help us realize the dream of a hunger-free India.
Donate now
* as of 4th Nov, 2020