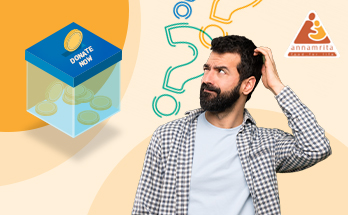 Food is a basic necessity of life, but unfortunately, millions are deprived of it. Food NGOs in
India like Annamrita Foundation strive to bring food to them. With the support from the
government of India, philanthropic donors, and charity donations, Annamrita provides food
in the form of mid-day meals to the needy.
While many of us want to donate to food NGOs in India, many don't know where to begin.
There are various challenges throughout the entire charity donation procedure ranging from finding a reliable nonprofit organization to making a safe online donation which needs to be
addressed. As one of the leading food NGOs in India, we are aware of these difficulties. We
acknowledge that you have limited energy and time to find and donate to food NGOs in
India.
One of our prior objectives is to make online donations comfortable, convenient, and swift.
Thus, we are here to help you ensure that your charity donation receives the greatest gain for
the beneficiary, the NGO, and you!
Who is your charity donation helping?
When you donate to food NGOs in India, it is pivotal to realize who gains benefit from your
charity donation. Although it is convenient to believe that the recipients of donations are the
people you desire to support, this might not forever be the fact. For instance, if the food NGO
you are donating money to is large and runs multiple projects, it is crucial to ensure that you
are donating to the exact project you are meant to support. Besides, when you are donating
money to food NGOs in India, it is essential to examine how much of your charity donation is
preserved by them.
Annamrita Foundation acknowledges that donors desire to cause the highest positive
influence when they donate to food NGOs in India. Thus, all the information related to every
project, beneficiaries, and how the charity donation is distributed is available easily. Every
individual campaign, program, and project offers specific details pertaining to the program
and the beneficiaries. Annamrita foundation takes government aid for the raw rice and a
minimum cooking charge of Rs 4.49 per child, while the remainder of all the expenses is
borne through charity donations.
All the details pertaining to the donations, the spendings, etc. are made available on the
website for the donors.
Are the food NGO's payment systems safe and secured?
In this tech world, an online donation is incredibly convenient. By negating the horizon
between donors and food NGOs in India, it enables the former to support the cause
passionately regardless of their locational constraints.
However, with an online donation for schools, there comes several payment security and safety challenges. Unsafe and unsecured payment methods can cause severe losses to donors and
deprive the food NGOs in India as well as the beneficiaries of much-needed funds.
Annamrita Foundation takes these concerns extremely sincerely. Therefore we keep clarity
and accountability of the steps to assure that the donors' data is forever safe. Built with high-
standard security designs, we protect the information of all our donors when they donate
money to us. Furthermore, Annamrita doesn't collect or save any payment information of
donors on its servers. With Annamrita Foundation, charity donation is convenient as well as
safe. Now you can securely donate money to Annamrita!
Are there any tax benefits of your charity donation to food NGOs in India?
The act of charity donation is naturally selfless, but it has the potential to equally benefit the
donors. Giving has been proven to be beneficial to donors as it makes them happier.
Furthermore, donors can get monetary benefits from the charity donations through tax
exemptions.
Your charity donations to Annamrita Foundation are qualified for tax exemption under
Section 80(G). You can contact Annamrita for more details on this!
You can use these charity donation tips the next time you plan to donate money to food
NGOs in India. With these tips, you can ensure your donation benefits those who require it
the most! Adding to these, since Annamrita Foundation checks every box on the mentioned
checklist, you can start your charity donation journey with us. Your donation matters. It can
transform the lives of underprivileged children who are in dire need of support.