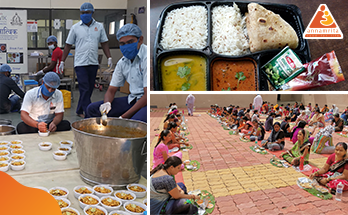 Access to nutritious, wholesome food is a basic necessity towards a healthy constitution. While many of us are blessed to enjoy the daily nourishment of food, the onset of the COVID-19 pandemic has upended this basic necessity for millions of people. Nearly, 14% of the total population in India is hungry every day. Needless to say, this pandemic called hunger has been plaguing the world for many generations now. To combat this food emergency, SBI Capital Private Limited joined hands with Annamrita Foundation, under Project Satvik, to sponsor meals as breakfast, lunch, tea, dinner for the month of May. SBI Capital is a subsidiary of the State Bank of India that primarily deals with investment banking.
Under this brilliant corporate ngo partnerships, SBI Capital have supported Gap Funding for 27,000 meals in Aurangabad. Along with the highly nutritious meals composed of dal, rice, vegetables and roti, seasonal nutritional delights and desserts like aamras and sheera were also served to COVID care centre patients, frontline workers, doctors and staff working for covid care centre of municipal corporation Aurangabad.
This hunger crisis has been elevated further in the smaller districts and rural areas of the country, like Aurangabad, where managing the rising number of cases and providing essentials has become quite the challenge for the administration. The district of Aurangabad has a grim history of tackling the hunger crisis. Due to state restrictions, various restaurants and food chains in the area shut down, leaving people to fend for themselves.
According to the latest United Nations report, almost 155 million people faced acute hunger all over the world amid the pandemic. Moving closer home, since March, India began experiencing a rise in cases that reached record numbers and had a devastating impact on the crumbling health infrastructure of the country. While no nationwide lockdown had been imposed, lakhs of people lost access to income, resources and daily meals. Due to the rise in cases, there has been an influx of patients in hospitals as well as medical staff and workers for whom access to nutritious, home-cooked meals has become difficult. While previously focused on food donation in mid-day meal scheme to students at municipal and aided schools across India, Annamrita Foundation identified the need of the hour and kick-started projects like Project Satvik, Operation Karuna and Kit of Joy, to combat hunger amid the pandemic. With generous donations from organizations such as SBI Capital, the Foundation continues to steer towards its aim of complete hunger eradication in the country. So far, Annamrita has been successful in serving nutritious meals to over two crore people across fourteen cities in India!
Now, you too can become a part of Annamrita Foundation's fight against hunger. Donate Now.