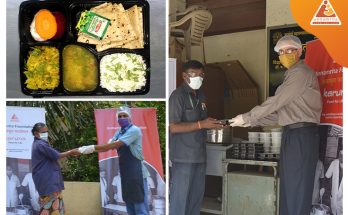 The nation came to a standstill when Prime Minister Narendra Modi announced a complete lockdown of India on March 25, 2020, to contain the spread of the COVID-19 pandemic. While the lockdown was unavoidable in order to flatten the rising curve of COVID-19, it also unlocked angst and hopelessness in many ways. Thousands of people lost access to income, resources and daily meals. On the other hand, many quarantined people, patients and medical staff found their mobility to be restricted and as a result they were unable to avail necessary essential requirements. While the government continued to uplift the morale of the country, several leading food NGOs in India like Annamrita Foundation came upfront to relieve this sheer sense of helplessness and distress.
As a leading food NGO in India that serves mid day meal scheme to municipal schools, Annamrita Foundation decided to leverage its kitchens across the nation to deliver warm and hygienic meals to those suffering in the lockdown.
Through the Karuna Program covid 19 food relief package initiated by Annamrita Foundation, the ongoing hunger crisis generated due to the COVID-19 pandemic was curtailed as daily wage earners, migrants, hospital staff, frontline workers and patients received wholesome nutritious food for 7 days in a week through the following 3 programs –
Municipal staff feeding program
This program initiated by Annamrita Foundation has strengthened the framework of hope by including meals for people dedicatedly serving in departments of Solid Waste Management, Maintenance, Public Health, Water, Social Justice, and Disaster Management.
Hospital health staff feeding program
As one of the leading food NGOs in India, Annamrita has also started serving meals to hospitals in Mumbai for all the health care staff including doctors, nurses, assistant staff, pathology staff, and office assistants.
Food for life
Annamrita Foundation is also providing meals to the underprivileged and needy across slums through their various kitchens in Maharashtra, Haryana, Delhi, Rajasthan, West Bengal, Jharkhand and Andhra Pradesh.
As a leading food NGO in India, hygiene is essential and paramount while preparing meals. Annamrita Foundation follows WHO guidelines for food handling techniques, preparing meals for the underprivileged in its kitchens. By collaborating with the state government and identified organizations, the meals are picked up and distributed in an efficient way.
While Annamrita strives to feed as many people as possible in these trying times while also depending on the generosity of charitable donations. An act of kindness is the need of the hour to strengthen the efforts of every Covid-19 frontline warrior and to also nourish those lesser privileged communities who have faced the debilitating effects of this lockdown while battling the constant grief of hunger.
With a donation of Rs 75 towards the efforts of frontline warriors including doctors, nurses, assistant staff, pathology staff, and office assistants who are relentlessly battling against COVID-19 can, you can help enable access to a freshly prepared nutritious meals.
Let's take the first step towards replacing hunger and hopelessness with hope and nutrition.
Make a donation for COVID-19 frontline workers with Annamrita Foundation .