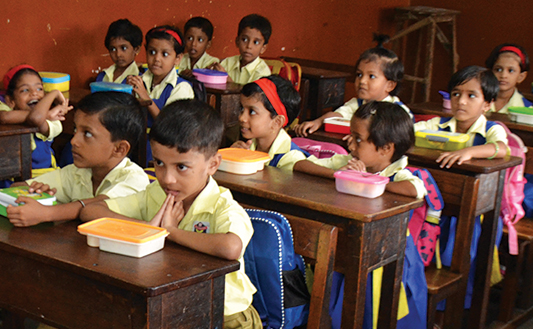 In a world where abundance and prosperity coexist with poverty and hunger, we as a society must take responsibility and action to support those who are less fortunate. One of the most pressing issues facing impoverished children is the lack of access to nutritious food. Proper nutrition is crucial for the healthy physical and cognitive development of children, and without it, they are at risk of serious health problems and developmental delays. Childhood poverty is a global crisis that affects millions of children worldwide. Hunger and malnutrition and lack of education are major challenges that poor children face, which have a significant impact on their physical and cognitive development. Therefore, it is crucial to support poor children, especially in terms of providing them with nutritious food and proper education.
Sponsor a Child's Education
One of the most effective ways to support underprivileged students is by sponsoring their education. Many organizations provide opportunities for individuals to sponsor a child's education. By doing so, you can help provide a child with access to quality education, which can help transform their lives. You can sponsor a child's education by providing financial support or by donating educational resources such as books, stationery, and uniforms.
Volunteer at a Local School
Volunteering at a local school is an excellent way to support underprivileged students. By volunteering your time, you can help provide students with additional support and encouragement, which can have a positive impact on their academic performance. You can help with teaching, mentoring, tutoring, or organizing extracurricular activities. Additionally, you can conduct food donation drives and even start programs such as mid-day meal programs with help of a food donation organization.
Organize Fundraisers
Organizing fundraisers are an excellent way to support underprivileged kids. You can organize a fundraiser in your community and donate the proceeds to an organization that supports underprivileged children. Additionally, you can organize a charity walk or run to raise awareness and funds for underprivileged students, ask people to donate food, and make people aware of the current situation and how every penny and every second of one's time matters.
Mentorship Programs
By mentoring a student, you can provide them with guidance, support, and encouragement, which can help them succeed in school and beyond. Additionally, mentorship programs can help students develop essential life skills and build confidence in themselves. This kind of program allows you to interact with each child and make them feel valued while making a valuable impact in their life.
Become a Regular Donor to Charity Organizations
Becoming a regular donor to charity organizations is one of the best ways to support poor children. By making a consistent contribution, you can help provide a stable source of funding for programs that benefit impoverished children. Even small monthly donations can make a significant impact over time. Look for reputable charities that focus on children's needs, such as education, healthcare, and nutrition. Be sure to research the organization thoroughly before donating to ensure that your money will be used effectively. By becoming a regular donor, you can make a lasting difference in the lives of children in need.
NGOs such as Annamrita Foundation and ISKCON Food Relief Foundation work with the government to provide food in the form of mid-day meals to school-going children to meet nutritional needs and increase attendance at school so more and more children get a basic education to have a better future.
Food Banks and Pantries
Food banks and pantries are excellent resources for families in need. These organizations collect and distribute donated food to people who are struggling to make ends meet. They often work with local farmers and grocery stores to collect surplus food that would otherwise go to waste. You can support food banks and pantries by donating food, volunteering your time, or making a financial contribution.
Meal Donation
Meal donation is a powerful way to help poor children who are struggling to access sufficient food. By donating meals, we can make sure that every child has access to the nutrition they need to grow, learn and thrive. Not only does this help to address immediate hunger, but it can also have long-term benefits for the health and well-being of these children. Furthermore, meal donations can help to alleviate the financial burden on families who are struggling to make ends meet, allowing them to redirect resources towards other essential needs. By supporting meal donation initiatives, we can make a meaningful difference in the lives of disadvantaged children and help to build a brighter future for all.
Final Words
We can all agree that every child deserves a fair chance at a brighter future. No child should be deprived of their right to education simply because of their financial status. By supporting underprivileged students through various means, we can contribute to a better tomorrow. Whether it's through donating books, or stationery, or volunteering your time and expertise, every little bit counts.
It's heartwarming to see how simple gestures can make a significant impact on the lives of these children. We have the power to color their world with the hope, love, and opportunities that they deserve. Let's pledge to take action and spread awareness about the importance of equal access to education. After all, our efforts today will shape the future of the world tomorrow.