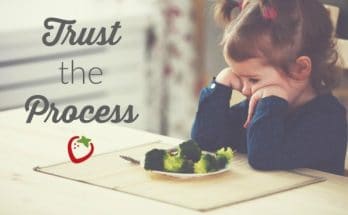 Imagine you've made a darn good healthy dinner. You serve it to your family, and this happens:
Your kid sighs and pokes at his plate with a fork. He eats a bite, maybe, or eats nothing at all. He whimpers that he doesn't like it, and can he have yogurt instead?
You're crestfallen, and you silently ask yourself, "Why do I bother making healthy meals if my kid won't even eat?"
Yep, it happens at our house, too. We keep serving healthy meals anyway, and we'll forever encourage you to do the same. (Because your kids WILL eat well in time.)
But there's something else going on at the table when your kids refuse to eat, and it's actually a form of progress.
How? A resolute pout on a little one's face doesn't look like progress. But when it comes to picky eating, not all progress is visible.
Sometimes, a step in the right direction looks like your kid letting you put a new food on her plate, even if she doesn't touch it.
It might look like your child exploring a food's texture with her hands, while she watches you eat.
It could look like your kid tolerating two foods touching each other on her plate.
Or It might look like nothing at all.
Being partially associated with Annamrita, I too want my children to have a healthy meal like this children NGO / Food NGO is serving mid day meals to lakhs of children every school day. The meals they provide are a perfect blend of health with nutrition.
Even when you can't see the improvements during mealtime, changes are happening in the way our kids think and feel about food. In time, tiny steps turn into big successes: that "he ate his broccoli today!" moment we all crave. So keep at it, friends! Trust in your kids, and trust in the learning that's taking place out of sight every time you share a meal with your family. Finally, don't be afraid to challenge their taste buds with foods that are a little outside their comfort zone. The more variety you expose them to, the more likely they are to enjoy something new! Keep up
ABOUT THE BLOGGER:
Amy & Natalie started Super Healthy Kids (SHK) website out of their common passion of health, fitness and whole food Their vision is to continue to help both parents and educators make it easier to feed kids nutritious food with a focus on fruits and veggies, that is fun, simple and delicious! Terita is a mom, partner, kitchen tinkerer, gardener, and lover of fresh food. Besides writing for Super Healthy Kids, she blogs in the Healthy Living network at Care2.